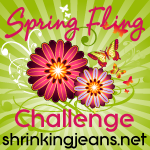 Well time for another Weigh-in for the Spring Fling Challenge. If you recall it was a irregular weekend for me with Emma getting sick and company coming in on Saturday. Kinda nervous when I stepped on the scale Monday morning and saw that it was up 3 lbs! Thankfully most of that was bloat from my not so great sodium filled choices this weekend, but some of it stuck. Here are this morning's results.
Here are my numbers
Last Week: 152.2 lbs
This Week: 152.8 lbs Current Loss: +0.6 lbs
Challenge Total: -2.8 lbs
I managed to Shred 5 of 7 days this weekend, taking both weekend days off. I am bummed to have not gotten it in, but family and life come first.
I made myself track all of my food points and here is how my week looked.
Wednesday 23, Thursday 25, Friday 23, Saturday 49, Sunday 35, Monday 17, Tuesday 17
I am allowed 19 pts per day, 35 flex pts for the week and normally count 3 APs for my workouts. If I use all these points, then I "really" only used 4 extra points. And that caused me to gain. I looked back to my prior trackers, and I normally only don't eat my activity points and normally have about 5 of my weekly points allowance left. So this kinda brought 2 different things to light.
1) I need to workout to keep losing at the rate I have been. I should not consider this an excuse to eat extra points. My body isn't to that point yet. Maybe it will be one day, but not today.
2) I need to divvy out my allowance points. My Saturday consumption included a Apple Pecan salad, 3 glasses of wine, pizza, tortilla chips, texas caviar and oriental slaw salad (which is made with ramen noodles and cabbage). Oh and I had package of fancy cakes. Can't forget those 7 pts of sugary goodness.
So while I am disappointed that I didn't contribute a loss this week to Team SynErgy (sorry ladies!), I have learned a lesson. Just because your schedule changes, you have to stay focused. And its not going to be easy, if it was I would have reached my goal a long time ago So head is up, moving past this slight roadblock and pushing ahead to seeing a loss next week!
How did you do…go share your experience this week with the Sisterhood!