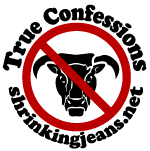 Deep breathe….here we go, time for a little soul cleansing.
I was really scared Friday night with my dizzy episode. I haven't been scared by a headache for a really really long time.
I have accumulated several glass containers from yardsales to create my perfect mantle and now have no clue how I am going to integrate them all together.
I did not feel like runnnig would be beneficial to my head ordeal, so I didn't exercise at all this weekend.
On top of that, I had pizza and regular soda on Saturday night along with my salad. Hey at least I got my veggies in.
I wanted to make some homemade caramel popcorn but resisted.
One of our orange fish died on Sunday. She had been the sickest one a few weeks ago. She seemed better but must have just not been able to beat it. RIP little momma.
As if that wasn't enough pond drama for the day, the tube leading up to the upper waterfall sprung a leak so we had to stop using that until we get it repaired. This means less filtering for the time being. Suck.
I ate a single with cheese and med fries from Wendy's yesterday on my way to the dr. It wasn't as good as I remembered.
I did manage to stay within my calorie count even with a huge lunch. Go me!
I wanted to stick my tongue out and crunch my nose at all the pregnant ladies in the doctors office yesterday. Sorry but I did. Just out of jealousy, not because of them personally. Note I didn't know any of them, I am not jealous of my pregnant friends, only pregnant strangers.
I finished C25K W3 last night and with the exception of being really hot, my legs felt good and I didn't have any side pain. Was really surprised since I hadn't exercised since Thursday.
I am scared to start the next level on C25K. Like REALLY REALLY SCARED!
Ahhh….that kinda feels better, anything you want to share?