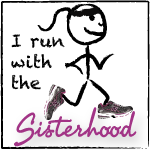 May is Sisterhood Run Month to coincide with National Run Month! In less then a month, 15 of the sisters will be heading to San Diego to run in the San Diego Rock N Roll 1/2 Marathon. I am soo proud of them.

They put the challenge out to everyone to out in at least one mile between May 6-8. Just one mile. We all probably do that throughout the day anyway, now let's just do it all at one time. I would love to start C25K training again like I started last July. I felt so good when I had gotten to the point of running 3 minutes at a time…I know I can do it again. So I am signing up to be a miler. I will be wearing my "You don't have to go fast…just go" shirt I won from the Sisterhood last fall.
I will run again…but for now I have to at least walk. Will you join me?
*Stop over here for a chance to win some awesome New Balance shoes…just like the San Diego Runners are wearing!