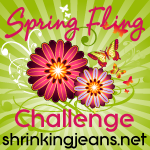 It's Wednesday…and you know what that means…time to weigh in for the Spring Fling Challenge. It was a good week, spent most of my weekly allowance points on Saturday grilling out with friends. Enjoyed some wine, grilled pepperjack burgers and vegetables and even had a piece of apple pie! I worked out everyday shredding so I was hoping to see a loss this week.
Here are my numbers
Last Week: 152.8 lbs
This Week: 152.2 lbs Current Loss: .6 lossChallenge Total: -3.4 lbs
Go Team SynErgy!
So I lost what I had gained last week! Score one for me! My goal for this challenge was to get under 150, so I am back on track to be there in the next few weeks. I want to go into Easter weighing less then I have this year…that's another mini-goal I guess!
How did you do this week…go share your weigh-in with the Sisterhood!