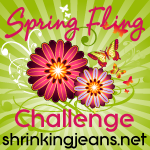 It's Wednesday…time to weigh in for the Spring Fling Challenge. It wasn't a good week on the exercise side, tweaked my ankle on Thrusday and tried to work thru it on Friday with no success. I kept getting shooting pains even walking on Saturday. So I have fallen off the Shredding wagon and am not going to be finishing the 30 day challenge with all the wonderful women who are doing a great job. But I did stay on track with my food and points, even tried a Boca burger this weekend….and really enjoyed it! So let' see how the scale responds this week.
Here are my numbers
Last Week: 152.2 lbs
This Week: 151.8 lbs Current Loss: .4 lossChallenge Total: -3.8 lbs
Go Team SynErgy!
This weekend will prove to be a challenge with Easter and the evil man known as Reese with this peanut butter and white chocolate combination….oh the evil! But I plan to load up on veggies and turkey and hope that I can contol myself around the pies.I would love to report a loss next week or at the worst maintain.
Have a great Easter everyone! How did you do this week…go share your weigh-in with the Sisterhood!