It's Wednesday…that means weigh-in day over at Shrinking Jeans. I am down .2 lbs this week….not thrilled but glad its not a gain.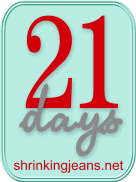 First week of 21 Days challenge is going well. No soda all week at work and I've been taking my vitamins and only forgot one day last week! Drinking about 2 liters of water throughout the day, need to start weening off my coffee…maybe only allow myself 2 cups as opposed to the 3 or 4 I've been drinking lately.
Continuing to do C25K 3 times a week, normally Mon,Wed and Sat and feel good about it. A friend recently signed up for a half marathon in a few months, so that has given me so much motivation to keep going. I told her maybe I'd do it with her next year! Aim for the stars!!!
How did all of you do this week? Keep your heads held high….we are making great strides towards living a healthier life…even if the scale doesn't reflect it right away!