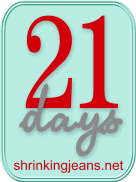 It's Wednesday…time to be accountable over at Shrinking Jeans. I am down .4 lbs this morning from last week. I did reach my 45 lb goal on Friday,but then splurged a little over the weekend and am back up a lb, but it will fall off. No plans for the weekend, so there shouldn't be any temptations!
Third week of 21 Days challenge was a tough one. I decided to give up my 4 cups of morning coffee filled with SF vanilla creamer. So I have enjoyed a diet Pepsi a few times since then in the morning to get me going and curb off any headaches. Been good with my vitamins and will continue this when this challenge ends, it is good for me so why stop! Still chugging away at the 'ol water bottle so that means several trips to the bathroom daily.
Continuing to do C25K 3 times a week, finished 2 days of level 3 this week. Finished the whole thing yesterday, I was so proud. Felt great when I was done. It was weird, I wasn't as tired and had no side pains yesterday, and my max HR wasn't as high(max 186 vs 191). So either I'm not pushing myself hard enough, or I'm getting used to this running thing! Go figure!
*Total weight loss for the challenge was 2.8 lbs…I'm happy with that for 21 days!
How did you do with the challenge? Are you ready for the next one-got a Wii? (I don't so I'm gonna have to come up with my own 30 day challenge.) But you can join in! Share your stories with us over at The Sisterhood of the Shrinking Jeans.